The National Council has narrowly rejected a motion by Roland Rino Büchel (SVP/SG). The move demanded that all Swiss Abroad be allowed to open a bank account with a Swiss system-relevant bank. The Organisation the Swiss Abroad (OSA) regrets this decision. Since 2008, it has been advocating a solution to the banking problem for Swiss citizens living abroad.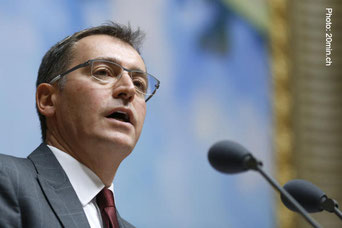 On Thursday, 4 May, the National Council rejected with 82 against 79 votes and 29 abstentions, the motion launched on 25 September 2015 by OSA board member, Roland Rino Büchel. The National Council has therefore followed the motion by the Federal Council.
The motion demanded from the Federal Council to create the legal basis within the framework of the 'Too big to fail' regulation so that Swiss nationals can "open an account with a system-relevant Swiss bank at reasonable conditions". Potentially 775,000 Swiss citizens are affected.
In his vote in the National Council, Roland Büchel argued the case that "Swiss nationals need a bank account in Switzerland, to maintain health insurance, to receive social security (AHV/IV), for travel and holidays in their home country or to conduct financial transactions related to property." He sees it as untenable that "Swiss citizens abroad, who comply with the tax laws of their country of residence, are denied a banking connection in Switzerland".
The OSA regrets the decision by the National Council. Nevertheless, it is important to note that the many 'yes' votes indicate an awareness of the problem by the government and that a solution to this problem is needed. In effect, since 2008, Swiss citizens abroad have increasingly had difficulties opening a bank account in Switzerland or maintaining banking relationships on reasonable terms.
If you like to read a transcript of the proceedings, click here.
The table below shows how the National Council and its political parties (Fraktionen) voted:

The conclusion from this is that only the SVP (Swiss People's Party) and the SP (Social Democrats) seem to understand the importance of this issues affecting so many Swiss Abroad; and it is due to their lack of support by the other parties, namely the the CVP (Christian Democratic People's Party) and the FDP (Free Democratic Party), that this motion failed. For a more detailed analysis of the vote, click here.
If you are a Swiss citizen in our region of Oceania and you are affected by the banking problem, we CSA Oceania want to hear from you. Please share your experience with us, so that we can be a strong voice in Bern.