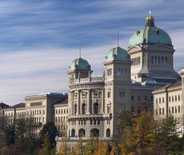 OSA PRESS RELEASE: Bern, 11 September 2017 – the National Council (NC) today adopted, by 178 votes to 4 with 7 abstentions, a motion tabled by the Foreign Affairs Commission of the NC on 4 July 2017. This motion requires that PostFinance revises its universal financial services to extend them to Swiss Abroad in order to enable them to fulfill their financial obligations. PostFinance, the main shareholder of which is state-owned Swiss Post, has a special responsibility towards Swiss citizens.
"Over 10% of our fellow citizens live abroad. They make a very important contribution to the image and prosperity of our country. The Swiss Abroad are a part of our nation. Their close relationship to the home country is very important to us all. However, this relationship is only viable if a bank connection is ensured." With these words, Tim Guldimann (SP/ZH), as speaker for the Foreign Affairs Commission, turned to his National Council colleagues.
The Organisation of the Swiss Abroad (OSA), welcomes the adoption of this motion by the NC, which demonstrates that the government is aware of the negative impact this problem has on the 10% of Swiss citizens that live outside of Switzerland's borders. The OSA hopes that the Council of States will join today's decision by the NC to finally find a solution to this problem.
(transl. by R Isler)