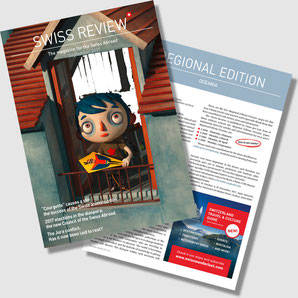 In the September issue read about:
An end in sight for the Jura conflict?
The resignation of Federal Councillor Didier Burkhalter.
Assessing the 2026 Olympics.
Swiss animated film-makers.
Check out the Regional Edition Oceania pages, for important news and information you need to know:  
Mobile passport station in NZ.
A farewell message from the Consul General in Sydney.
Meet the newly elected team of Oceania delegates to the Council of the Swiss Abroad.
Community News and Events.