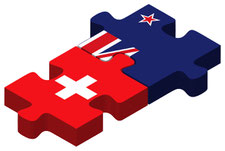 On 27 September, the National Council (Nationalrat) followed the recommendation from the Economic Commission of the Lower House and rejected implementing the Automatic Exchange of Information (AEOI) with New Zealand. The majority of the members are of the opinion that the Swiss in New Zealand are disadvantaged over other Swiss living abroad, because of the Swiss pension (AHV) being confiscated by the New Zealand Government.
The proposal has now been sent back to the Federal Council (Bundesrat) requesting them to negotiate and sign a Social Security Agreement first, before introducing the AEOI with New Zealand. The Social Security Agreement will need to include the abolishment of the penalising Section 70 and all other negative aspects of the present Section 70. 
Out of a (second) group of 41 countries or territories with whom the Swiss Government proposes to introduce the AEOI beginning January 1st 2018, only two were rejected so far. One was Saudi Arabia (95 to 92 votes), for human rights related reasons and New Zealand with a large majority of 104 to 87 votes. This great result was only possible with the unanimous votes from both the Christian Democratic Party (CVP) and the Swiss Peoples Party (SVP).
The next step will be for the Council of States (Ständerat) to vote on this in the upcoming parliamentary session in December. If both Chambers reject the signing of the AEOI with New Zealand, then the Federal Council (Bundesrat) will have to commence negotiations with New Zealand concerning a Social Security Agreement. If the two Chambers are not of the same opinion, then the whole process will start all over again.
We are now half way there. There is still a lot of work to do behind the scenes. I would like to thank all of the Swiss who at the beginning of this year followed our President and my appeal by writing to as many parliamentarians in Switzerland and Members of the Federal Council (Bundesrat) as possible, expressing their frustration and dismay concerning the decade old unsolved pension issue. I would also like to express my sincere thanks to the Swiss Ambassador to New Zealand, David Vogelsanger, and his team for their relentless work and support upfront and behind the scenes to make this news become reality. The window of opportunity is still open. Our voices have been heard.
See also report in the Tagesanzeiger
Peter Ehrler 
Elected Council Member of the Swiss Abroad 
representing New Zealand