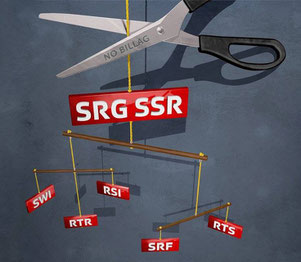 OSA PRESS RELEASE: Bern, 3 November 2017 – The federal referendum 'Yes to the abolition of radio and television fees (abolition of Billag fees)' intents to abolish the reception fees for licensed radio and television broadcasters with a public service obligation. The Federal Council is of the opinion that Switzerland needs a comprehensive public service in the media sector and that it cannot be financed exclusively on a commercial basis. It therefore rejects the initiative.
The Executive Board of the Organisation of the Swiss Abroad (OSA), like Parliament and the Federal Council, opposes the initiative, which will be voted on 4 March 2018. Public services in the information sector are of the utmost importance for Swiss Abroad.
At the meeting in Bern on 3 November 2017, the OSA Board decided on a recommendation to reject the 'No Billag' initiative.
The number of Swiss Abroad – today more than 775,000 – and their economic and cultural importance are steadily on the increase. However, to maintain a close relationship with Switzerland and to act as our country's ambassadors worldwide, they must have access to quality information around the world. The information obligation of the Swiss Broadcasting Corporation (SRG) is essential for our compatriots abroad to exercise their political rights.
The public service provided by the SRG gives Switzerland a voice in the media – above all via the platform swissinfo.ch – that can be heard by the whole world, thereby promoting and enhancing the image of Switzerland internationally. In addition, our cultural diversity and its appeal beyond Switzerland's borders are very important to the Swiss Abroad.
(transl. by R Isler)