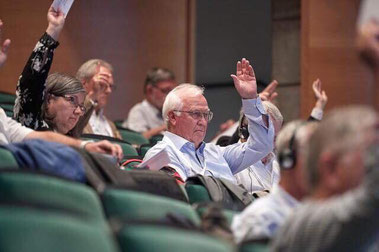 Members of the Council of the Swiss Abroad meeting in the town of Visp on Friday, 10 August approved plans to launch an online petition calling for the introduction of e-voting over the next three years. Oceania was represented at the meeting by Katja Wallimann Gates and Beat Knoblauch (pictured), Peter Ehrler and Peter Canziani.
The Organisation of the Swiss Abroad (OSA) demands that the Federal Council and parliament make electronic voting available to all Swiss abroad by 2021.
"It's in your hands now," OSA President Remo Gysin commented the result. Currently, more than 172,000 Swiss Abroad have registered to take part in votes and elections in Switzerland.  The OSA hopes that at least 10,000 people will sign the petition over the next three months.
More than 200 trials have been carried out at national and cantonal levels over the past 15 years. Last year, the government decided to expand e-voting options across the country, incorporating it in at least 18 of the country's 26 cantons by October 2019 for the forthcoming parliamentary elections.
In opposition to that, critics have repeatedly warned of security flaws of e-voting. Plans are afoot to launch an initiative aimed at banning e-voting that would permanently block plans by the government to introduce it.
"We want to give a clear signal against the growing trend in parliament against e-voting," OSA Director Ariane Rustichelli told the assembly.
Your CSA Oceania delegates fully support this initiative and encourage all Swiss in Oceania to sign the petition: www.evoting2021.ch