The 'Swiss Review' magazine is published by the Organisation of the Swiss Abroad (OSA). It was launched in 1973 and appears six times per year in German, French, English and Spanish in 14 regional editions. The magazine is published both in printed form and as an online version. It has a total circulation of 418,000, including 223,000 electronic copies. The circulation in Oceania is 20,200 – 11,500 of which are electronic copies.
All Swiss Abroad who are registered with a Swiss representation receive the magazine free of charge. Its purpose is to provide them with information about Switzerland and keeping them up-to-date about Swiss current affairs. It reports politically neutral on issues that are of interest to Swiss Abroad. Special emphasis is given to politics and government information and announcements, enabling Swiss citizens living abroad to exercise their voting rights in a responsible and informed manner and strengthens their ties with the home country.
Your consular representation is responsible for all subscription matters. The editorial team does not have access to your address or administrative details. Therefore, any issue/request should be addressed to the Swiss Embassy of Switzerland in Wellington or to the Consulate General in Sydney, depending on where you are domiciled/registered.

IMPORTANT: To ensure that delivery runs smoothly, please inform your consular representation immediately of any change of address (postal or email).
Eight pages of regional news are included in four out of the six issues that appear per year. The 'Regional News Oceania' focuses on the activities of the local community and on providing consular information. The schedule for 2020 is as follows:
The schedule for 2021 is as follows:
Issue
February 1/21
April 2/21
June 3/21
August 4/21
Oct 5/21
Dec 6/21
Editorial Deadline
12.01.2021
09.03.2021
10.05.2021
no regional issue
07.09.2021
no regional issue
Publishing Date
11.02.2021
20.04.2021
11.06.2021
11.08.2021
08.10.2021
15.12.2021
Editorial contributions and advertising from the community are always welcome. Please contact CSA member, Roland Isler who is the regional editor for the 'Regional News Oceania'.
Since 2010, the 'Swiss Review' has been delivered as an online edition as standard. This means that anyone whose email address is registered with a Swiss representation will receive the magazine by email unless they have expressly registered for the printed version.
The OSA is encouraging those who currently receive the printed edition to switch to the electronic version. Printing and shipping costs are an enormous expenditure item and shipping is not always the most ecologically sensible option. Apart from doing the right thing by the environment, switching to online also means you will receive the 'Review' earlier and have access to all content at any time and from any location. When switching, please ensure you advise your Swiss representation of this. It does not help the environment or save costs if you read the electronic version and afterwards receive the printed version only to discarded it.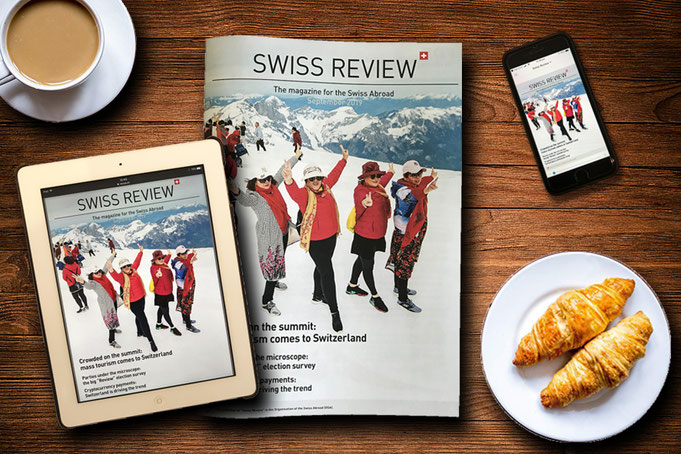 Whether on paper or on a screen, the content of the 'Swiss Review' is always identical
The recommended way is to report the change from print to online (or vice versa) in writing (email or letter) to the Swiss Embassy of Switzerland in Wellington or to the Consulate General in Sydney, depending on where you are domiciled/registered.

Another option is to use the online desk of the Federal Department of Foreign Affairs (FDFA), which was created for Swiss Abroad. Then click on > Living abroad > Online desk FDFA. Prior registration is required to use the online desk.
For more information about the 'Swiss Review' or to download it as a pdf, go to the OSA website and click on the Swiss Review tab on the top of the page, or download the App (see below).
As important as it is to keep costs down, the OSA is committed to continue to offer the printed edition of the 'Review'. Readers who particularly appreciate receiving the printed edition are now able to support it with a voluntary subscription fee. Any support expressed in this way is very much appreciated.
Voluntary subscription fees can be sent to:
Berner Kantonalbank AG, 3001 Bern
Beneficiary: Auslandschweizer-Organisation, Alpenstrasse 26, 3006 Bern
IBAN: CH97 0079 0016 1294 4609 8
Reason for payment: Support Swiss Review